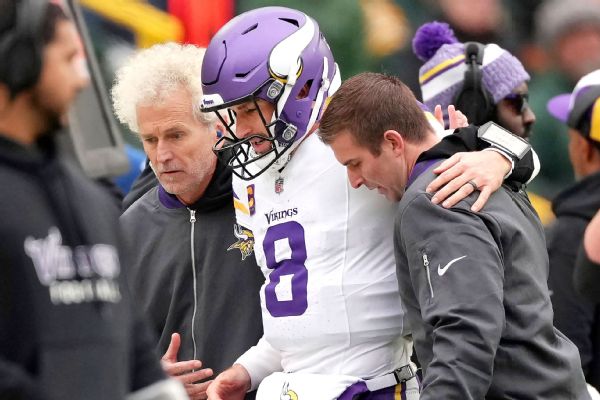 EAGAN, Minn. — Kirk Cousins' mind went to the worst possible place last month as he was carted into the locker room at Lambeau Field, having just learned that his right Achilles was ruptured.
"You have a lot of thoughts go through your head, and one of them was: 'Is this the last time I play football?'" Cousins said Friday in his first public comments since the injury occurred Oct. 29. "Now a couple weeks removed I can say, 'No, it's not going to be.' I'm excited to write the next chapter and see what God wants to do with it."
What that future will look like, and where it will take place, is far less certain. Cousins' contract will void next March, five months before his 36th birthday, and replacement Josh Dobbs has stunned the NFL by leading the Vikings to victories in both games he has played in while compiling the second-best QBR (87.4) of any quarterback in that span.
Cousins reiterated that he wants to finish his career in Minnesota, a sentiment he has voiced consistently since he and the Vikings tabled talks in the spring on a potential contract extension.
"Certainly your mind goes there and you know that's coming," Cousins said of the looming expiration of his contract. "But similar to what we said in April or August, March will happen in March. February will happen in February. Those conversations will happen, but it's just not time yet. We've got so much to focus on with this season. Guys are playing so well. And that's where our attention really needs to be."
The injury was the first of Cousins' career that required surgery, and he said Friday that his initial reaction was to be in denial. He said he couldn't push his foot down but felt little pain in the Achilles and was telling the Vikings' medical staff that he did not believe he had torn the tendon.
But team physician Dr. Chris Coetzee made an immediate and definitive diagnosis moments later in the sideline medical tent. He gave Cousins a moment alone to process the information, and Cousins — who had missed only two starts in his NFL career to that point — said he closed his eyes and took a deep breath. Later that night, he Googled "the five stages of grief." Even now, Cousins admitted, "I'm still mad and I'm still disappointed."
Recently, team psychologist Brownell Mack texted a suggestion for his mindset that set him on a more positive path. According to Cousins, the text said: "When you face adversity like this, you'll look back down the road and many times you're better because of it. Not in spite of it."
Added Cousins: "I just believe there's more of the story up ahead. That's what I really believe in the core of my being."
Coetzee performed the surgery next door to the Vikings' practice facility, electing to use the traditional rather than SpeedBridge method some professional athletes have chosen to help speed their recovery process. The tendon tear was in a place where Coetzee could suture it together, rather than needing to use the SpeedBridge method to brace it, Cousins said. He preferred that method for the long term and pointed out that "I'm not in a hurry" to rehabilitate because there was never a chance that he could have returned to play this season.
Cousins is wearing a walking boot and is able to put weight on his leg during rehabilitation work. He has told people in the organization that he believes he will be ready to participate in at least some portion of practices when OTAs begin in May.
In the meantime, he is attending quarterback meetings, and coach Kevin O'Connell has given him several schematic projects to keep him involved with the team.
"He knows our offense," O'Connell said. "He knows it as well as any of us pretty much. Whether he is watching some third downs or first and second downs, trying to find a good look for an explosive or a keeper play-pass. It is kind of similar to our normal dialogue of Monday and Tuesday and as he gets into his tape study, I just asked him, 'I just want you to be involved. I just want you to be around our team. Be around.' He is going to start traveling when he gets cleared to do that. I think it [is] a huge bonus for everybody to have him around."