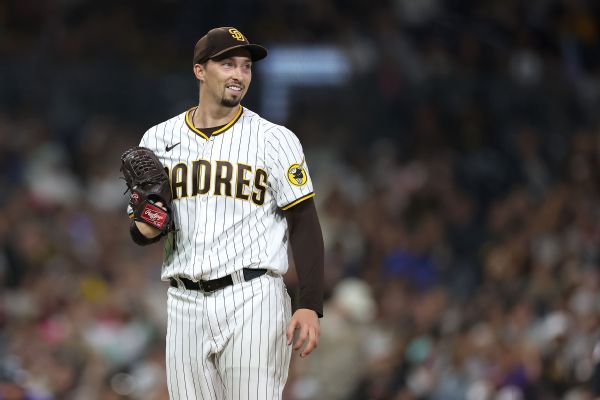 San Diego Padres starter Blake Snell won his second Cy Young Award on Wednesday, this time in the National League, while New York Yankees hurler Gerrit Cole took home his first award unanimously after twice coming in second and finishing in the top five three other times.
Snell became the seventh player — and second left-hander — to win the award in each league, joining Gaylord Perry, Pedro Martinez, Randy Johnson, Roger Clemens, Roy Halladay and Max Scherzer. He previously won the AL Cy Young while a member of the Tampa Bay Rays in 2018.
"It feels amazing," Snell said. "It definitely feels good and I'm trying to enjoy this more than the first one I won."
Snell was 14-9 with an MLB-leading 2.25 ERA and 180 innings pitched in 2023. He also gave up the fewest hits (5.8) per nine innings while leading the majors in walks (99).
He's the third pitcher to win the award while leading his league in free passes. Bob Turley and Early Wynn did it in 1958 and 1959, respectively.
Snell said he didn't concern himself with walks, as he and Padres pitching coach Ruben Niebla simply focused on getting outs.
"Me and Ruben kind of just throughout the year were like, 'The walks don't matter,'" Snell said. "If you walk a guy, who cares, let's get the next guy. 'You got nasty stuff, believe in it and attack the zone, you're going to be fine.'"
Snell also ranked first in opponent slugging percentage (.286) and second in strikeout percentage (31.5).
He's the 22nd pitcher overall to win the award multiple times.
Asked how he's a different pitcher now than when he won it the first time, Snell answered, "I was a kid. I thought I was going to win 40 of them. I thought I was invincible. I thought winning the Cy Young was just what I was going to do every year."
Snell, who turns 31 next month, became a free agent after the World Series and rejected a $20,325,000 qualifying offer from the Padres on Tuesday to pursue a more lucrative contract.
"I haven't thought about free agency at all, one time," Snell said. So I've just been really focused on this day, winning this award in front of my friends and family. From here forward, I'll be thinking about free agency a lot more. Obviously, that's next now."
The four previous San Diego pitchers to win the Cy Young Award were Randy Jones (1976), Perry (1978), reliever Mark Davis (1989) and Jake Peavy (2007).
Snell received 28 of 30 first-place votes in balloting by the Baseball Writers' Association of America. San Francisco Giants right-hander Logan Webb finished second and Zac Gallen of the NL champion Arizona Diamondbacks was third. Webb and Gallen each received one first-place vote.
Atlanta Braves right-hander Spencer Strider finished fourth in voting. Chicago Cubs left-hander Justin Steele was fifth.
Cole, 33, was 15-4 with an AL-leading 2.63 ERA and league-high 209 innings. He also led the league in fewest hits allowed (6.8) per nine innings, as well as WHIP (0.981). He's the second No. 1 overall pick to take home the award, joining David Price in 2012.
Cole was asked if it meant more to him to win the award as a member of the Yankees, the team he followed as a kid.
"It does," he said. "It's just such an historical franchise with such historical players, and it is just a bit surreal to be regarded with — just for example, the other five award winners that we've had over the years."
Cole became the sixth Yankees pitcher to win a Cy Young and first since Roger Clemens in 2001, following Ron Guidry, Sparky Lyle, Whitey Ford and Turley. Cole and Guidry are the only unanimous winners for New York.
Cole finished fourth in voting for the NL Cy Young in 2015 while in Pittsburgh, then had a string of top-five finishes from 2018 to 2021. The six-time All-Star was runner-up for the AL Cy Young in 2019 while a member of the Houston Astros and in 2021 with the Yankees.
Cole credited a certain amount of comfortability as a contributing factor to his outstanding season.
"Taking lessons that I've learned in the past and applying them forward, always trying to evolve," he explained. "I definitely feel more comfortable where we're at, but the more settled my family and the more settled the organization and the city is rebounding off the pandemic, I think that overall contributes to at least feeling comfortable and getting things started off on the right foot."
Cole received all 30 first-place votes. Minnesota Twins right-hander Sonny Gray was runner-up with 20 second-place votes, and Kevin Gausman of the Toronto Blue Jays finished third. Baltimore Orioles right-hander Kyle Bradish was fourth, followed by Seattle Mariners veteran Luis Castillo.
Castillo gets a $250,000 bonus for coming in fifth in the American League. Gray earned a $150,000 bonus and Gausman $100,000.
Cole reminisced about two of his favorite days of the season, including his final start when he authored a complete game shutout.
"Starting the All-Star Game was definitely a cherry on [top]," Cole said. "That was a wonderful day. And the last game of the season that I pitched in Toronto. I don't know how many more starts in the All-Star will come around. That one was pretty special for me."
The Associated Press contributed to this report.